May 11, 2022
Professor Jan Lagendijk has won the ESTRO's Klaas Breur Award 2022. This special honor from the European Professional Organization for Radiotherapy and Oncology was awarded because of the role Lagendijk had in the development of the MR-Linac. He is considered a key figure in the invention of this device, which 'revolutionized radiotherapy'. UMC Utrecht is the place where the MR-Linac was developed and a pioneer in the application of the new technique. Meanwhile, the third MR-Linac has been installed in Utrecht and the devices are in use in various radiotherapy departments worldwide.
The Klaas Breur Award was presented to Jan Lagendijk during the ESTRO congress that is taking place this week in Copenhagen.
'Seeing what you treat' is the motto of Jan Lagendijk's research group. And this is still a relatively new achievement in radiotherapy. In "regular" radiotherapy, only scans to determine the radiation plan are made prior to the radiation series. With the MR-Linac, this is done daily during each irradiation session. This allows for more targeted and precise radiation therapy. This so-called image-guided radiotherapy is an enormous step forward in the improvement of radiotherapy treatments.
Image guided radiotherapy
"Until recently, we simply couldn't see what we were doing during a radiation session, let alone act on it," says Lagendijk. "We made a scan before the series of radiations. And saw where the tumor was at that moment. But that can be different days later: the patient lies in a slightly different position, organs such as the bladder and intestines are not always equally full. And besides, a tumor moves in the body, for example, due to breathing or bowel movement. No matter how carefully you work, there can be a difference of up to two centimeters. And then, for example, the place where you expect the patient's prostate tumor to be at the time of treatment can be just inside the rectum. If you can see in real time what you are doing, you can work in a more targeted manner, and the tumor can be irradiated with a higher dose in fewer sessions. Better, and less stressful."
The power of Utrecht
The MR-linac, the device that makes 'seeing what you treat' possible, originated at UMC Utrecht. It is a combination of a radiotherapy accelerator with an MRI scanner. The technology was developed by Lagendijk's research group and the device was brought to the market by Elekta and Philips. There are now over a hundred of them, in Europe, the US and Japan. It's no coincidence that we were able to develop such a revolutionary innovation in Utrecht, Lagendijk argues.
"Connecting different disciplines is exactly what brought us to where we are today with the development of image-guided radiotherapy. We have not only realized that mix in a network of collaborating institutions, we have established it within our own institution and department. We have IT specialists, engineers, scientists and physicians sitting together on one corridor. They are all working together to identify issues, analyze them, formulate what is needed to solve a limitation in therapeutic possibilities, and then make it. And we have a very strong alliance with companies that bring what we make to the market. In our vision, that is how we can take medicine forward."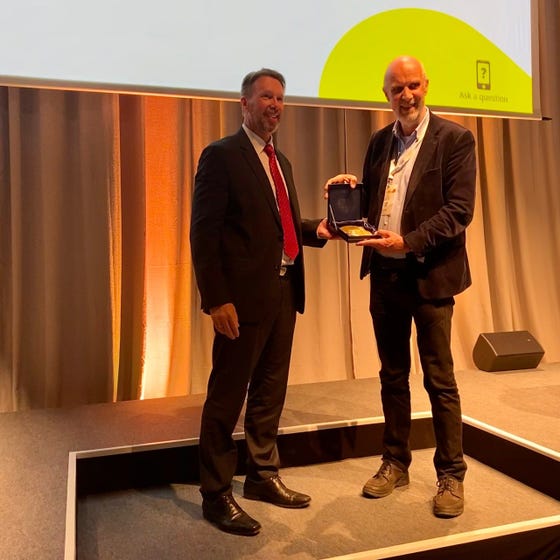 Photo:
Prof.dr.ir. Jan Lagendijk is presented with the Klaas Breur Award during the ESTRO congress in Copenhagen, May 9, 2022.
Source: UMC Utrecht